Katherine Marie Ray Loy, Class of 1947
Katherine Marie Ray Loy
July 11, 1925 – September 13, 2019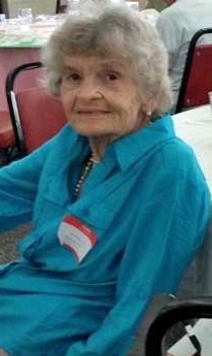 Katherine Marie Ray Loy age 94, of Knoxville, passed away Friday, September 13, 2019, at Fort Sanders Regional Medical Center. She was a member of Smithwood Baptist Church, and preceded in death by her parents, Carl and Virginia Mutter Ray; husband, Charles L. (Jake) Loy; daughter-in-law, Joan Daniel Loy; siblings, Bill, Jack, Brownie, and Tootsie Ray Holmes. Survivors: son, Tim Loy; bonus daughter, Liza Graves; and her many special friends.

Katherine was a proud graduate of Knoxville General Hospital School of Nursing. She retired from St. Mary's Medical Center after 30 + years in pediatrics. She was known as the neighborhood nurse, well respected and loved by all. She enjoyed gardening and had a deep passion for animals, especially any she could nurse back to health. Katherine spent most mornings feeding her hummingbirds while drinking her coffee and watching for her rabbits.

Special thanks to Dr. Steven Masters and his caring staff, and her many caregivers who became like family. Gayla Smith, Becky Phillips and all her amazing friends who are too numerous to mention which helped on her journey through life.

In lieu of flowers, memorials may be made to St. Jude Children's Research Hospital, 501 St. Jude Place, Memphis, TN 38105 or the charity of your choice.