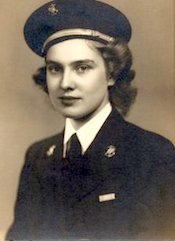 Julia Marie Zecchini
Born 8 October 1915, Newcomb, Tennessee
Died 8 October 1944, Shelby County, Tennessee
Lieutenant jg, Nurse, US. Navy
Julia Zecchini died at the U.S. Naval Hospital Memphis, Shelby County, Tennessee of sodium fluoride poisoning. She was the daughter of Tom and Mary Zecchini. She was a passenger on the U.S.S. Talamanca in 1942, to be transferred to the U.S. Naval Mobile Hospital #4 in Auckland, New Zealand.
She attended Jellico High School. In 1941 she was a member of the 6th District Champion Girls Basketball team from the school.
Burial/Memorial Location: Saint Boniface Catholic Cemetery, Williamsburg, Whitley County, KY
Location In East TN Veterans Memorial (Knoxville): Pillar VII, Middle Panel