Amelia Young Cox Harshman, R. N., a Knoxville Nursing Pioneer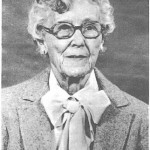 Amelia Margaret "Amy" Young Cox Harshman (pictured here at age 91) was born October 5, 1890, near Crab Orchard, Tennessee. Amy's mother, Helen Godding Young, was a trained nurse from Massachusetts.
Amy wrote of her life and her career as a registered nurse in an autobiography, entitled I Remember, which was published in Maryville, TN, in 1982. Amy died Jan. 28, 1988, aged 97, in Crossville, TN. The photos in this article are from Amy's book.
The book is full of wonderful details about central East Tennessee during Amy's life. Following are some excerpts that relate to Knoxville-area nursing. You can navigate through this article by clicking the Page Number links at the bottom of each segment.