Tenth Student Nurse Class at Eastern State
In the mid-1950's, nursing students in every Knoxville program had to serve a rotation at the Eastern State Psychiatric Hospital (later Lakeshore Mental Health Institute; now closed).
This photo was taken in 1955.  Click on the photo for a larger image.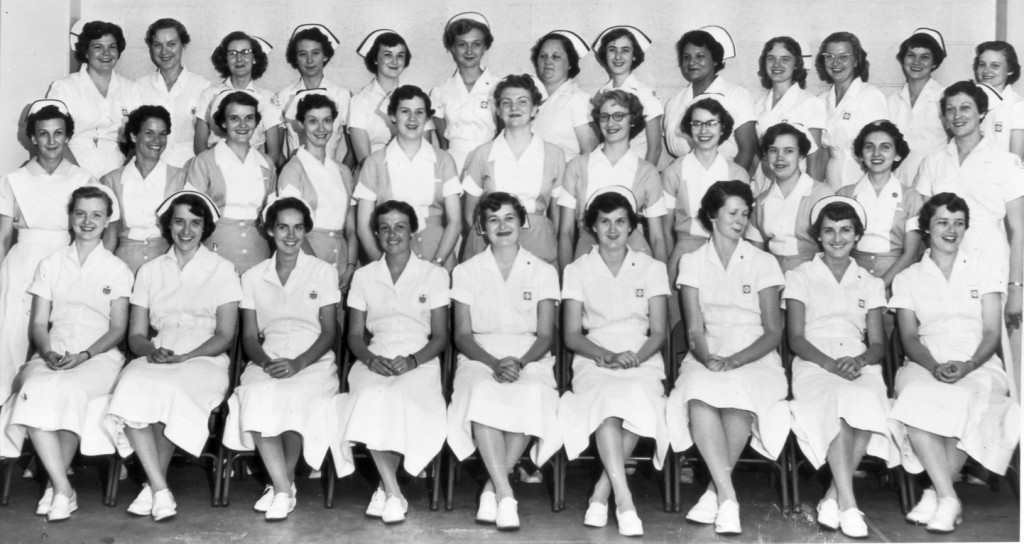 Thanks to Lynn Rule Newman (KGH, 1955), for sharing this photograph.
The names listed below were included as a caption to the original.
First Row
Second Row
Third Row
Betty Sue Hooper, St. Mary's

Lynn Rule, KGH

Annette Crumley, St. Mary's

Beulah Lee Sweeten, St. Mary's

Betty Riggs, Baptist

Anna Sue Cassidy, Baptist

Sue Kilby, Baptist

Betty West, Baptist

Virginia Setser, Baptist

Margaret Nicholson

Mary Ruth Thompson, Ft. Sanders

Helen Travis, Ft. Sanders

Doris Ann Goins, Ft. Sanders

Audrey Woods, Ft. Sanders

Janice Schneitman, Ft. Sanders

Peggy Jo Begley, Ft. Sanders

Norma Wilbanks, Ft. Sanders

Ruth Massey, Ft. Sanders

Alice Burgoyne, Ft. Sanders

Norma Walden, KGH

June McGhee, Baptist

Irene Hill, St. Mary's

Geneva Rollins, KGH

Joyce Moore, KGH

Pauline McCoy, KGH

Carolyn Capps, Baptist

Willadean Vaden, KGH

Ernestine Sparks, KGH

Mary Wolfe

Peggy Lovett, Baptist

Lynette Longmire, Baptist

Clara Nell Duckett, KGH

Elizabeth Edwards, Baptist