Edna Ruth Miller Turner, Class of 1947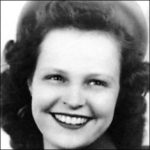 Ruth Miller Turner passed away May 13, 2016, surrounded by her family. She was born December 4, 1926, in Blount County, Tennessee, to her father, Edward Byrl Miller, and mother, Dorothy June Miller. Her family settled in a part of Blount County in the 1700's that is now part of Cades Cove. She grew up with twelve brothers and sisters that she loved dearly, on a farm in Blount County.
She was a member of the U.S. Cadet Nursing Corps during WWII and started her nursing career at the General Hospital in Knoxville. She was later a supervisor of Nursing at Fort Sanders and Lakeshore Mental Health Facilities.
She leaves two daughters, Johna Turner Underwood, and her husband, Chris Underwood, and their sons, Craig Floyd, Wesley Underwood, and daughter, Ann Vice; her daughter, Nika Turner Younghanse, and her sons, Kevin Younghanse, and his wife, Lisa, and John Eric Younghanse and wife Diana, who all live in Destin, Florida. She also leaves eight great-grandchildren, Kyle, Jamie, Justin, Aiden, Garrett, Cayman, Duke and Dylan; and great-great-grandson, Trase; and special granddaughter, Amber.
Special thanks to the staff at Parkwest Hospital.
Family will receive friends at Berry Highland Memorial Funeral Home, 5315 Kingston Pike, Knoxville, TN 37919 on Monday, May 16 at 5:00 p.m. with funeral service to follow at 7:00 p.m. Graveside service will be Tuesday, May 17, at 11:00 a.m. at Berry Highland Memorial Cemetery. Friends may leave their condolences at www.highlandmemorialknoxville.com
Source — http://www.legacy.com/obituaries/knoxnews/obituary.aspx?page=lifestory&pid=179994442